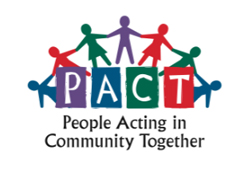 #WeBelong | #1People1Fight | #UnPuebloUnaLucha
- Español debajo –
Continuing the Movement for
Housing Justice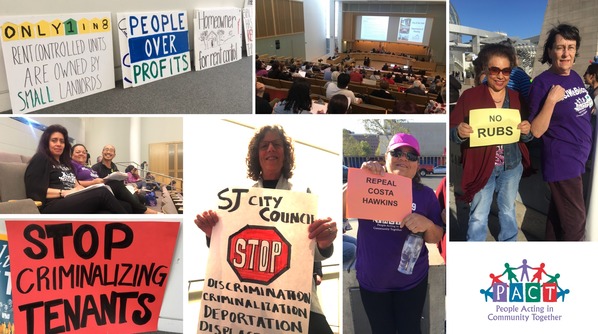 Thank you to everyone who attended Tuesday's San Jose city council vote - we may not have achieved the strongest possible renter protections from displacement + discrimination, but we did achieve some key victories, including showing up in strong spirit + massive numbers, with approximately 200 tenants & allies across our coalition & community.
Your stories and passion sent a clear message:
The housing + economic injustice crisis is not going away;
This issue is clearly tied to race;
We WILL be back!
#TenantPower #SJWeBelong #1People1Fight
**Special shout out to Councilmembers Sergio Jimenez, Raul Peralez, Donald Rocha and Vice Mayor Magdalena Carrasco for standing up for renters throughout the night!**

Photo from Renters Rights Action at SJ City Hall Thursday before City Council Vote
So what were the results?
1) Council voted to direct housing staff to report back in several weeks on adding duplexes under just-cause protections and Ellis Act eviction protections, which could protect 11,000+ more renters in San Jose from no-cause evictions!
2)
Adoption of immigration provision
barring landlords from inquiring a tenant's immigration status and/or using threats to call ICE. Landlords required to post new state immigration law [
AB 291
] in public spaces of complex in English/Vietnamese/Spanish.
3) Elimination of RUBS (Ratio Utility Billing System) - unfair utility charges for rent-controlled units under a mastered meter, although via a one time rent increase.
4) Addition of a criminal provision in the just cause law, which would strengthen language around eviction of convicted criminals.
5) Weakened anti-displacement policy via watered-down Ellis Act law, now requiring only 50% instead of 100% of new units built on top of demolished rent-controlled units to be rent-controlled (even if starting at market rate); Alternative option added would require developers to build only 20% of units as affordable, instead of the 33%+ the community needs.
-------------------------------------
RENTERS OF SILICON VALLEY
As renters came to city hall on Tuesday to protect communities displaced by outrageous rent increases, unfair evictions, and discrimination,
Renters of Silicon Valley
-
a new project of PACT
- interviewed tenants about their experience and solutions on how to end the housing crisis.
If you are interested in sharing your story or interviewing other renters, please contact Katherine Nasol at katherinenasol@pactsj.org.
-------------------------------------
Campaign to Repeal Costa Hawkins achieves major milestone to qualify for November ballot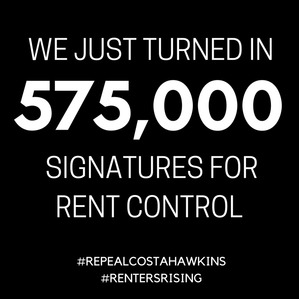 On Monday, the coalition and campaign to
Repeal Costa Hawkins
- Affordable Housing Act - gathered in Sacramento, Oakland, and Los Angeles for actions announcing that enough signatures were gathered to put the item on the November ballot! This year, the decision will come to voters on a more affordable and equitable California, which if passes, will give local municipalities more power to determine what type of rent control is best for them!
Thank you to everyone - individuals and organizations - who helped collect signatures! In South Bay, we collected over 1,000 volunteer signatures!
See articles from actions here:
STATEWIDE JUST CAUSE EVICTION PROTECTIONS
Assemblymember Rob Bonta's bill for statewide just cause eviction protections - AB 2925 - will go to its first committee next Tuesday! Submit letters of support by Friday!
-------------------------------------
Calling All Landlords & Property Owners
Are you a landlord or property owner who wants to engage in the struggle for renter protections and rent control? A new group has formed,
Property Owners for Fair Housing -- see news coverage of their kickoff press conference here.
Please email christian@pactsj.org
--------------------------------
ESPAÑOL
Gracias a todos los que asistieron a la votación del martes en el concejo municipal de San José: es posible que no hayamos logrado las protecciones más sólidas posibles contra el desplazamiento y la discriminación, pero logramos algunas victorias clave, que incluyen un espíritu fuerte + números masivos, con aproximadamente 200 inquilinos y aliados a través de nuestra coalición y comunidad.
Tus historias y tu pasión enviaron un mensaje claro:
La crisis de la vivienda + injusticia económica no va a desaparecer; Este problema está claramente relacionado con la raza; ¡Volveremos!
#TenantPower #SJWeBelong # 1People1Fight
** ¡Un especial saludo a los concejales Sergio Jiménez, Raúl Perez, Donald Rocha y la vicealcaldesa Magdalena Carrasco por defender a los inquilinos durante toda la noche! **
******************
Entonces, ¿Cuáles fueron los resultados?
1) El Consejo votó para que el personal de vivienda directo informe en varias semanas sobre cómo agregar dúplex bajo protecciones de causa justificada y protecciones de desalojo de la Ley Ellis, que podrían proteger a más de 11,000 inquilinos en San José.
2) Adopción de una disposición sobre inmigración que prohíba a los propietarios que investiguen el estado de inmigración del inquilino y / o que utilicen amenazas para llamar a la migra. Los propietarios deben presentar una nueva ley estatal de inmigración [
AB 291
] en los espacios públicos del complejo en inglés / vietnamita / español.
3) Eliminación de RUBS (Ratio Utility Billing System) - cargos de servicios desleales para unidades de renta bajo un medidor masterizado, aunque a través de un aumento de renta de una vez.
4) Adición de una disposición penal en la ley de causa justa, que fortalecería el lenguaje sobre el desalojo de criminales condenados, creando oportunidades para criminalizar a los inquilinos.
5) Debilitamiento antidesplazamiento a través de la ley diluida de la Ley Ellis, que ahora requiere solo el 50% en lugar del 100% de unidades nuevas construidas encima de unidades demolidas de alquiler controlado para ser controladas por la renta (incluso si comienzan a tasa de mercado); La opción alternativa añadida solo requeriría que los desarrolladores solo puedan pagar el 20% de las unidades, en lugar del 33% + que necesita la comunidad.
INQUILINOS DE SILICON VALLEY
Cuando los inquilinos llegaron a la alcaldía el martes para proteger a las comunidades desplazadas por aumentos de alquiler escandalosos, desalojos injustos y discriminación, los inquilinos de Silicon Valley, un nuevo proyecto de PACT, entrevistaron a los inquilinos sobre su experiencia y soluciones sobre cómo terminar con la crisis de la vivienda.
Para obtener más información sobre los inquilinos de Silicon Valley,
haga clic aquí
.
Si le interesa compartir su historia o entrevistar a otros inquilinos, comuníquese con Katherine Nasol en katherinenasol@pactsj.org.
Campaña para derogar Costa Hawkins logra un hito importante para calificar para la votación de noviembre:
¡El lunes, la coalición y
la campaña para Revocar a Costa Hawkins
se reunieron en Sacramento, Oakland y Los Ángeles para realizar acciones anunciando que se juntaron firmas suficientes (más de 575,000) para poner el tema en la boleta electoral de noviembre! ¡Este otoño, la decisión recaerá sobre los votantes en una California más accesible y equitativa! ¡En Silicon Valley, recolectamos más de 1,000 firmas voluntarias!
¡Gracias a todos, individuos y organizaciones, que ayudaron a juntar firmas!
Ver artículos de acciones aquí:
-------------------------------------
Llamando a todos los propietarios y propietarios
¿Es propietario o propietario de una propiedad que desea participar en la lucha por la protección de inquilinos y el control de alquileres? Se formó un nuevo grupo,
Propietarios de Viviendas Justas
- vea la cobertura de noticias de su conferencia de prensa de inicio
aquí
.
Por favor envíe un correo electrónico a christian@pactsj.org
--------------------------------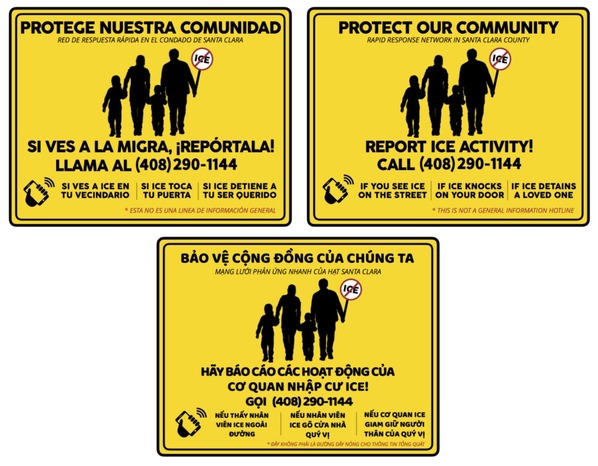 GET TRAINED TO BE A RAPID RESPONDER!
Join us to learn what you can do to respond to the threat of ICE in our communities by legal observation.

JOIN OUR RAPID RESPONSE NETWORK!
Sunday, April 29, 2:00 PM, San José City College - Milpitas College Extension
1450 Escuela Parkway | Milpitas, CA 95035
NETWORKS IN NORTHERN CALIFORNIA:
Santa Clara: 408-290-1144 | San Francisco: 415-200-1548 | San Mateo: 203-666-4472 | Alameda: 510-241-4011 | Monterey: 831-643-5225 | Fresno: 559-978-4797 | Sacramento: 916-245-6773 | Santa Cruz: 831-239-4289 | Santa Clara: 408-290-1144 | San Francisco: 415-200-1548
SUPPORT PACT -

APOYE A PACT






See videos of past PACT actions and luncheons

here

.




SUPPORT PACT - APOYE A PACT




Your support makes these trainings and actions possible.

Su apoyo hace que estos entrenamientos y acciones sean posibles.





---