Click to view this email in a browser

#WeBelong | #1People1Fight | #UnPuebloUnaLucha
[Español debajo]
THIS SUNDAY
Accompaniment Training
Nov. 18 @ PACT, 3-5:30 PM
1100 Shasta Ave., San Jose, CA 95126
Learn about forming and leading an Accompaniment Team to support and partner with immigrant individuals/families, including:
a) Pastoral care/support;
b) Practical + financial support;
c) Accompaniment to ICE meetings + court hearings so that no one stands alone;
and/or
d) Help them tell their story publicly for deportation defense
This support is needed for individuals/families living in their homes, staying in sanctuary/ refuge congregations, and in ICE detention. We have seen an increase of ICE activities this past few weeks so we need people to show up. The purpose of this training is to get some learning and understanding on what does it mean to be an accompaniment supporter to families that have been affected by ICE. We will have speakers that have done accompaniment to talk about their experience and best practices. We will also be learning of the importance of public campaigns to get a loved one released from ICE detention.
https://goo.gl/forms/2k0wUCAt1xOoRfBA3

Questions/Preguntas - contact jesusruiz@pactsj.org
ESTE DOMINGO
Entrenamiento de Acompañamiento
18 de noviembre @ PACT, 3-5:30 PM
1100 Shasta Ave., San José, CA 95126
Obtenga información sobre cómo formar y liderar un Equipo de acompañamiento para apoyar y asociarse con personas / familias inmigrantes, que incluyen:
a) Cuidado / apoyo pastoral;
b) Apoyo práctico + financiero;
c) Acompañamiento a las reuniones de ICE + audiencias en la corte para que nadie se quede solo;
y / o
d) Ayudarles a contar su historia públicamente para la defensa de deportación.
Este apoyo es necesario para las personas / familias que viven en sus hogares, que permanecen en congregaciones de santuario / refugio y en detención de ICE. Hemos visto un aumento de las actividades de ICE en las últimas semanas, por lo que necesitamos personas que se presenten. El propósito de esta capacitación es obtener algo de aprendizaje y comprensión sobre lo que significa ser un acompañante de apoyo para las familias que han sido afectadas por ICE. Tendremos oradores que hayan hecho acompañamiento para hablar sobre su experiencia y las mejores prácticas. También conoceremos la importancia de las campañas públicas para que un ser querido sea liberado de la detención de ICE.
*****************
PACT ALL Leaders WINTER PARTY
Sunday, December 2, 2018
4:30-7:30 PM
@PACT, 1100 Shasta Ave., San Jose
RSVP / Regístrese - pactsj@pactsj.org
All PACT leaders - join to celebrate the year and reflect on a powerful season of voter engagement! ¡Únase a nosotros para celebrar el año y reflexionar sobre una temporada poderosa de participación de los votantes!
*****************
RAPID RESPONSE NETWORK
RED DE RESPUESTA RÁPIDA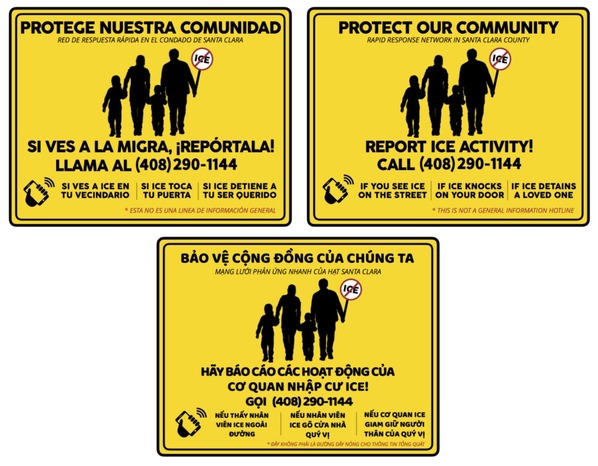 GET TRAINED TO BE A RAPID RESPONDER!
Join us to learn what you can do to respond to the threat of ICE in our communities by legal observation. To learn more, please email
jesusruiz@pactsj.org.
NETWORKS IN NORTHERN CALIFORNIA:
Santa Clara: 408-290-1144 | San Francisco: 415-200-1548 | San Mateo: 203-666-4472 | Alameda: 510-241-4011 | Monterey: 831-643-5225 | Fresno: 559-978-4797 | Sacramento: 916-245-6773 | Santa Cruz: 831-239-4289 | Santa Clara: 408-290-1144 | San Francisco: 415-200-1548
SUPPORT PACT -

APOYE A PACT






See videos of past PACT actions and luncheons

here

.




SUPPORT PACT - APOYE A PACT




Your support makes these trainings and actions possible.

Su apoyo hace que estos entrenamientos y acciones sean posibles.





----------------------------------------------------------------------------------------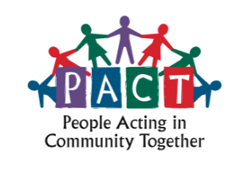 PACT: People Acting in Community Together
1100 Shasta Avenue | San Jose, CA 95126
Phone: (408) 998-8001 | Email: pactsj@pactsj.org
Website: http://www.pactsj.org
---
If you no longer wish to receive these emails, please reply to this message with "Unsubscribe" in the subject line or simply click on the following link: Unsubscribe
PACT
1100 Shasta Avenue
San Jose, California 95126
United States


Read the VerticalResponse marketing policy.